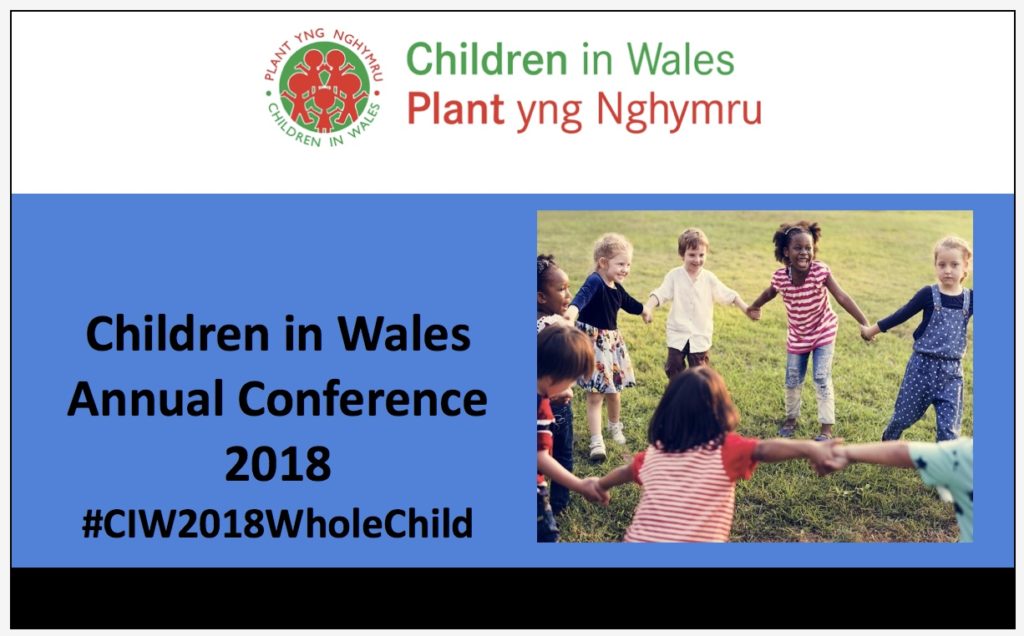 3 October 2018, 10am – 4pm
Mercure Holland House Hotel, Cardiff
Children in Wales Annual Round Table Conference
The Whole Child: The importance of getting it right
Children can experience uncertainties, adversity, poverty and trauma. The ability to adapt well, cope better and thrive despite these challenges is a crucial aspect of their lives.
The Children in Wales Annual Round Table Conference will provide opportunities to consider current research and practice that takes a 'whole child' approach to improving resilience in childhood. This will include integration of services and the crucial role of the third sector.
The Children in Wales Annual Conference is supported by NCPHWR

Confirmed speakers:
Huw Irranca-Davies, AM and Minister for Children, Older People and Social Care, Welsh Government
Understanding and using current Welsh research to influence practice:
~ Professor Sinead Brophy: Wellbeing and mental health are not the same and Early research findings on treating parental mental health to increase childhood wellbeing
~ Professor Ann John: Mental health in teenagers and young adults – Are we in a crisis?
~ Dr Anne Williams, CASCADE: Resilience, strengthening families and investing in edge of care principles
~ David Egan, Professor of Education: Children's Health and Wellbeing and the New School Curriculum in Wales
Panel Session:  Panel members will be contributing to a discussion about the priority actions needed to ensure the resilience and wellbeing of Children and Young People in Wales.
~   David Melding AM: Chair of the Improving Outcomes for Children Ministerial Advisory Group
~ Lynne Neagle AM:  Chair of Children, Young People and Education Committee
~ Young Person's representative
~ Representation from a CVC: To be confirmed
~ Representation from WLGA: To be confirmed
Catriona Williams OBE, Chief Executive, Children in Wales: The importance of getting it right in the current context
Rocio Cifuentes, Director, EYST: The importance of social cohesion for children and families
Sarah Crawley, Director, Barnardos: Examples of integrated services
Dr David Williams, Aneurin Bevan Health Board and chair of Children in Wales: Conference chair
Poster Presentations and Market Place
The conference will provide fantastic opportunities to meet with Wales based researchers, discuss the latest findings and help to inform future topics. During the lunch period, delegates can visit the Market Place to hear researchers present their posters in live 'bitesize', 5 minute presentations.
In addition, the Market Place will host exhibitors from a wide variety of sectors, providing delegates with information and excellent networking opportunities.
Who should attend?
Professionals working with children and their families and those with a policy lead or interest in improving childhood resilience and wellbeing should attend. The conference will be relevant to all sectors involved with children and families, including the third and statutory sectors.
Bookings
Costs:      £105 members of Children in Wales
Costs:      £125 non members
To book your place, click here
Exhibition Opportunities
Exhibition opportunities are available at the conference. If you are interested in showcasing the work of your organisation, please email:bookings@childreninwales.org.uk
Costs:     £50 for members of Children in Wales
Costs:     £75 for non-members
**Please note that exhibitor's fees are in addition to the delegate fee**
Please forward this to your relevant colleagues and networks